houz'mon
-3- ghetto houz ep
ZIP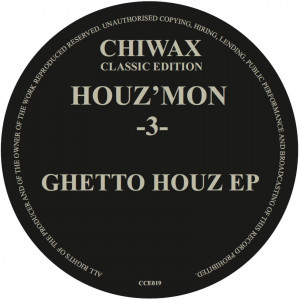 Catalog

cce019

Title

-3- ghetto houz ep

Artist

houz'mon

Label

chiwax classic edition

Release Date

2015-04-21
TIP
12"
House - Jackin
ghetto house
WW EXCL
RAWAX proudly welcomes the Godfather of Ghetto Houz Muzik Rickey Houz Mon White to the RAWAX family! Houz'Mon cousin is the Famous Lil'Louis & Cei Bei What words can describe the one and only "HOUZ'MON"? Pioneer? Party Rocker? Ghetto Houz Icon? Lets start at the beginning Houz'Mon grew up on the West Side of Chicago where he was exposed at an early age to Chicago, New York & Detroit dance music. Befor Houzmon, or rickkiqhouz was born I went by the name Slick Master Rick in 1987 sign my first record deal with dj international records. The name of my trax "Brother's and sister's house on 13th street! Aka halloween house this trax lunched the foundation and planted the seed of "GHETTO HOUZ"
ARTIST: HOUZ'MON
TITLE: -3- GHETTO HOUZ EP
LABEL: CHIWAX CLASSIC EDITION
CAT: CCE019
GENRE: GHETTO HOUSE
FORMAT: 12"
REL. DATE: 20.04.2015
TRACKLISTING:
H side:
H1. King 45years later
H2. The Struggle
H3. The Groove
M side:
M1. 101 Remix
M2. Hump That Booty
M3. Hindu Talkin Shit
Produced by Houz'Mon
Recorded at Factory Jack Studio
Factory Music Will Never Die!!!
WORLDWIDE DISTRIBUTED BY DBH MUSIC
www.dbh-music.com | info@dbh-music.com!
| | | |
| --- | --- | --- |
| # | Artist | Title |
| 1 | houz'mon | H1 KING 45YEARS LATER |
| 2 | houz'mon | H2 STRUGGLE BETTER MIX |
| 3 | houz'mon | H3 THE GROOVE BETTER MIX |
| 4 | houz'mon | M1 101 BETTER MIX |
| 5 | houz'mon | M2 HUMP THAT BOOTY |
| 6 | houz'mon | M3 HINDU TALKING SHIT |