gemini
swimmin wit sharks ep
ZIP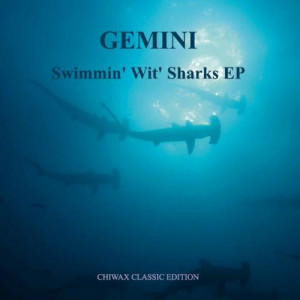 Catalog

cgtx002

Title

swimmin wit sharks ep

Artist

gemini

Label

chiwax classic edition

Release Date

2013-10-22
TIP
12"
House
house
WW EXCL
GEMINI, aka Spencer Kincy and also known by House Sounds Of Chicago
connoisseurs as Gemini Eyes, Gemini Sounds or Pop Rocks,
used to be some sort of silent giant in the first
"Chi-House music revival" of the 90s. Therefore he was part of the so-called 2nd wave" of younger Windy City DJs and producers such as Cajmere, Mark Farina, Sneak, Derrick Carter and Louis Bell. This generation took the early, rough House sounds of
Chicagos mid-80s in their productions back on the track and created at
the end an unusually compelling club smoothness with those fresh, new
retreated sounds.
Gemini himself published an entire collection of significant 12-inches
and albums on labels like Cajual, Relief, Planet E, Classic, Peace Frog,
Disko B or Cyclo, who could shake the reinforced walls around the Club
Floor in their own special way, on one hand grainy abstract as well as
subliminally dirty while other tracks could enable, in a deeply
controlled but almost emotionally gentle way, never-ending Deep House
streams to flow into a natural rhythmic movement. At the same time, he
never abstained from the fundamental elements of American black dance
music: jazz, soul and funk.
The result was sometimes eclectic, but it is probably exactly the reason
why Spencer Kincy has worldwide until today his very own faithful fans
that have loved him as well as a DJ with his very own way of doing
things. There, in his own world, completely detached from everything
else, he could then give even more life to the unbridled madness of his
production thru his sets. Raunchy disco tracks immersed in
303-hard-pregnant Acid, down-tempo House straight paired with strong
Armani riffs, Jazz transformed into the High-Tech Funk of the
neighboring metropolis of Detroit are the result and of course the whole
always being simply exquisite.
At the end of the 90s, things suddenly got pretty quiet for Spencer
Kincy who retired from the music business, this probably due to many
disappointments he had experienced there.
His personal
whereabouts have since become the object of
speculations and rumors but luckily the magic
and intensity of his productions haven´t suffered
from it. Swimmin With Sharks could be clearly
understood as a biting statement of what might
have happened there in the backroo. In addition,
however, the title track of this EP ( the complete
trackwerk personally authorized by Spencer Kincy
for this Gemini Traxx-series ) is definitely a subtle,
intimate work beyond a raw "Green Velvet" sound
cosmos. Whereas "We Are The Future" reveals the
sort of depth and sustainability of the Chicago House
that will arouse, as 7AM masterpiece, tears of happiness
to the darkest dance floors, if the DJ knows how to put
this track in scene at the right place of his set. Thus even
now "No End Of The Story" for Spencer Kincy then...
where GEMINIs music is just that real and still alive till
today! [Claus Bachor / spyinthehouse.de]
| | | |
| --- | --- | --- |
| # | Artist | Title |
| 1 | gemini | a1 swimmin wit sharks |
| 2 | gemini | a2 we are the future |
| 3 | gemini | b1 a taste |
| 4 | gemini | b2 swimmin wit sharks (dub) |