12.90 € inkl. MwSt. / zzgl. Versand ab 4.95 € innerhalb DE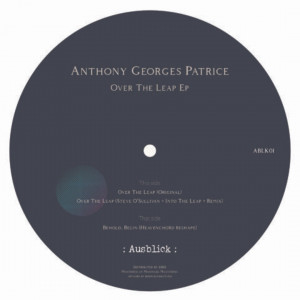 Catalog

ABLK01

Title

Over The Leap EP (incl. Steve O'Sullivan & Heavenchord RMXS)

Artist

Anthony Georges Patrice

Label

AUSBLICK

Release Date

2022-11-07
TIP
12"
Techno - Deep
Minimal
Acid
Ambient
WW EXCL
Teaser: https://bit.ly/3BfmDIp
AUSBLICK : Anthony Georges Patrice and Lessenorg are happy to present the first release of Ausblick, a label designed to explore the laws of perspective and depth. Here we are welcoming Steve O'Sullivan and Heavenchord as remixers to present two different interpretations of original tracks from french producer Anthony Georges Patrice.
Played by: Rarsesh, Lawrence, Truncate, Vlad Caia, Laurent Garnier, Âme, Julietta, Roger Gerressen, Arnaud le texier, Agoria, Matthew Oh, Thor...
Catalog: ABLK01
Title: Over The Leap EP (incl. Steve O'Sullivan & Heavenchord Remixes)
Artist: Anthony Georges Patrice
Label: AUSBLICK
Release Date: 2022-10-04
Genre: Techno/ Dub/ Minimal/ House/ Ambient
Tracklisting:
A1. Over The Leap (Original Mix)
A2. Over The Leap (Steve O'Sullivan "Into The Leap" Remix)
B1. Behold, Begin (Heavenchord Reshape)
Text:
Standing firm on a steady driving rhythmic section, Over The Leap symbolizes the awakening of the life on Earth, the arrival of the morning sun. A deep chord brings in the necessary warmth to prepare the ground for the life on earth to emerge, a bright uplifting pad signs in the beginning of a new day as the light surely gains intensity. Steve O Sullivan adds his signature steady sound to the original track. Emphasizing the comfort and warmth of the early hours of a summer day; extending time as if to focus the attention on the beauty of a world not yet awakened but ready to be. Original hovering over, remix going deep into the leap that the world is about to take every single day when the birds sing. Original Behold, Begin will be available as free download, which offer the necessary well deserved space to Heavenchord to fully express his deeper interpretation of it, giving a massive push to the Jazz influences of the track to then introduce to the audience the depth of a reshape that could only come from one of the most profound artists that Dub Techno has in store today. A release aiming to bring together the two principles of life according to ancient Philosophy : ground the feet on the soil, extend to the sky, and come back to being with a deeper focus on the feeling of being alive.
Order at DBH Distribution; info@dbh-music.com
Mastered by Mike Grinser at Manmade Mastering Berlin
Artwork by Benjamin Hurtado de Mendoza
Worldwide exclusive distributed by www.dbh-music.com; info@dbh-music.com
| | | |
| --- | --- | --- |
| # | Artist | Title |
| 1 | Anthony Georges Patrice | A1 Anthony Georges Patrice - Over The Leap (Original Mix) |
| 2 | Anthony Georges Patrice | B1 Anthony Georges Patrice - Behold, Begin (Heavenchord Reshape) |
| 3 | Anthony Georges Patrice | B2 Anthony Georges Patrice - Over The Leap (Steve O'Sullivan _Into The Leap_ Remix) |