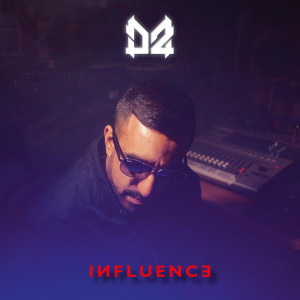 Catalog

dainf008

Title

influencer

Artist

dop ammo

Label

dope ammo records

Release Date

2018-12-04
12"
2x12"
Broken - Drum & Bass
drum n bass
WW EXCL
Label: Dope Ammo Records
Kat-Nr. dainf008
Artist: Dope Ammo
Titel: Influencer
2018 has been a big year for Dope Ammo so far, what with the smash refix of "Wishin' On A
Star", countless collaborations with a whole host of talents artists and fitting in a tour of
Europe. It comes as no surprise that it's now time to unleash a heavy hitting album in the
form of "Influence".
This isn't strictly a drum and bass affair either and with styles perfectly crossing in and out of
each other, it's a true representation of Dope Ammo's creative production flair.
"I'm Good" is a prime example of the vibes presented from the album. The arrangement is
super shiny, flowing sunshine from the speaker and firing a sea of smiles in all directions.
Of course you're going to get a certain amount of dancefloor madness and with the likes of
"How We Get Down" featuring not only Jasmine Knight on vocals but the Run Tingz Cru
thrown in the mix for good measure. This track has a certain amount of commercial
crossover likeability however, retains that original Dope Ammo punch.
"Old Times" is another fine example of retaining 'scene credibility' and smashing those
melodic vibes. If you didn't hear this one at a festival this year, you probably were hanging
around the food trucks too much!
Switching styles completly, both "Risky Business" and "Take It Back" combine early 90's
vibes, euphoric uprising melodies and good old fashioned hands in the air moments that
really will bring on feelings of peace and love! Shout to MC Fearless.
"Repent" and "Saturday" inject some fresh flavours to your ear, switching the BPM whilst
retaining that feel good vibe which is really represented across the whole of the album.
12 tracks, all with individual personality and character it's no wonder Dope Ammo really has
locked himself (along with 100's of guests) in the studio for most of the year. If you're after a
solid mixture of beats, some to chill to, others to absolutely brock out to - this album is
certainly for you.
Guest appearances (in no particular order) from the likes of Gigante MC, Run Tings Cru, DJ
Panik, Anomy, Yemi Bolatiwa, Jasmine Knight, Aries, Taiwan MC, Broomers, Wyld Child,
Frenic, Rio Hellyer, Martin Carr and Kathy Brown.
Press Release: Jamie S23
_________________________________________________________________________
CD Inlay Text
Dope Ammo has been a successful producer, remixer and DJ since the early 2000's having
multiple hits across a broad array of genres. Having worked with the likes of Aphrodite,
Micky Finn, Benny Page, MC Chickaboo, A.M Sniper (from So Solid fame), and Dynamite
MC, not forgetting history in the video game soundtrack industry, Dope Ammo certainly has
a wealth of experience. "Influence" is testament to this and with every track following a
different path and flavour, this really is an album for everybody.
Tracks:
Side A -
1. Dope Ammo Ft. Rio Hellyer - "Wishing' On A Star (Jungle Evolution)"
2. Dope Ammo & Broomers Ft. Martin Carr - "Oldtimes"
3. Dope Ammo - "Repent"
Side B -
4. Dope Ammo, Kathy Brown & Wyld Child Ft. Frenic - "I'm Good"
5. Dope Ammo & Taiwan MC - "Babylon Falling"
6. Dope Ammo, Broomers & Sentz Ft. Yemi Bolatiwa & Gigante MC - "Stir It Up"
Side C -
7. Dope Ammo, Broomers & Kathy Brown - "Saturday"
8. Dope Ammo & Aries - "Take It Back"
9. Dope Ammo & Jasmine Knight Ft. Run Tingz Cru - "How We Get Down"
Side D -
10. Dope Ammo - "Risky Business"
11. Dope Ammo & Run Tingz Ft. Redders - "Badman Inna My Ends"
12. Dope Ammo Vs DJ Panik & Anomy Ft. Yemi Bolatiwa & Gigante MC - "Flying"
| | | |
| --- | --- | --- |
| # | Artist | Title |
| 1 | dop ammo | 1.WISHIN ON A STAR_ (Jungle Evolution) - Dope Ammo Ft. Rio Hellyer |
| 2 | dop ammo | 2.OLDTIMES_ Dope Ammo & Broomers Ft Martin Carr |
| 3 | dop ammo | 3.REPENT_Dope Ammo |
| 4 | dop ammo | 4.IM GOOD - Dope Ammo Kathy Brown & Wyld Child Ft Frenic |
| 5 | dop ammo | 5.BABYLON FALLING - Dope Ammo & Taiwan MC |
| 6 | dop ammo | 6.STIR IT UP_ Dope Ammo, Broomers, Sentz Ft Yemi Bolatiwa & Gigante MC |
| 7 | dop ammo | 7.SATURDAY Dope Ammo, Broomers & Kathy Brown |
| 8 | dop ammo | 8.TAKE IT BACK_ Dope Ammo & Aries |
| 9 | dop ammo | 9.HOW WE GET DOWN_ Dope Ammo & Jasmine Knight Ft. Run Tingz Cru |
| 10 | dop ammo | 10.RISKY BUSINESS - Dope Ammo |
| 11 | dop ammo | 11.BADMAN INNA MY ENDS - Dope Ammo & Run Tingz Cru Ft. Redders |
| 12 | dop ammo | 12.FLYING - Dope Ammo Vs DJ Panik & Anomy Ft. Yemi Bolatiwa & Gigante MC |