bear bones, lay low
atlantean encrypted message
ZIP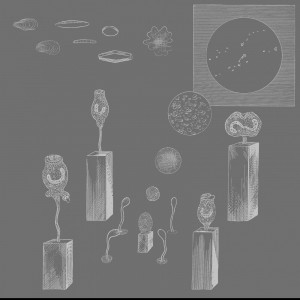 Catalog

RHD-032

Title

atlantean encrypted message

Artist

bear bones, lay low

Label

no label

Release Date

2017-12-31
12"
Miscellaneous - Pop
Wave / Pop / Rock - Experimental / Avant garde
in we go... the intoxicating title track is lifted from the great 'Visions from Limbus'* cassette (2015), while the low slung 'Welson', and the ultra doomy Dans Tes Limbes are much more recent creations to flow from Ernesto González's psychadelic fingers.... TIP!
.
* originally released by Lonktaar and Swollen Avant Garde. http://lonktaar.blogspot.be/ & http://swollenavantgarde.blogspot.be/
- fEeeDbAcKK:
Traxx (Nation, Chicago): loved the 1st track and the 3rd one - thank you sincerely for the download of this.
Rabih Beahni (Morphine): B side is Insane!! Will definitely play it LOUD.
| | | |
| --- | --- | --- |
| # | Artist | Title |
| 1 | bear bones, lay low | 96185_1 |
| 2 | bear bones, lay low | 96185_2 |
| 3 | bear bones, lay low | 96185_3 |